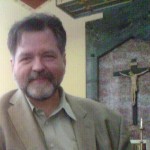 Baritone, church soloist/cantor
Translator (German/French/Italian-to-English)
Information technology engineer
Contact: richard@chonak.com
Church musician
Since 2016: cantor/soloist, St. Patrick Church and St. Linus Church, Natick, MA
Since 2011: cantor/soloist, St. Joseph Church, Lincoln, MA (St. Julia Parish, Weston/Lincoln)
Plainchant studies under Michael Ferry and Robert B. Hill, also Scott Turkington and Theodore Marier.
Work history
23 years of experience in information technology in research and academic environments: Unix system administration, web applications development, technical support.
Music studies
Bachelor of Music, 2015, University of Massachusetts Lowell, Music Performance (vocal). Student of Mark Andrew Cleveland (since 2010). Previously: Robert Gartside, Johannah Segarich, and Susan Dill.
Participant in these ensembles:
Masterworks Chorale of Boston (2009 – )
Oriana Consort (2015 – 2017)
At university: U. Mass. Lowell University Choir (2010, 2012 academic years) and U. Mass. Lowell Chamber Singers (2011, 2013)
Past seasons: Concord Chorus, Polymnia Choral Society, Harvard-Radcliffe Chorus, Back Bay Chorale
Translation Projects
Church documents (1)
Articles, book excerpts, and interviews in theology and religious studies by Jean Galot (1, 2 [orig]),
Manfred Hauke (1, 2, 3),
Bp. Ratko Peric (1, 2)
Web projects
Informative Catholic sites which I recommend
Personal interests
Previous studies
Sc.M., Harvard University (Applied Mathematics)
B.S., University of New Hampshire (Mathematics; minor in German)
Contact Information: